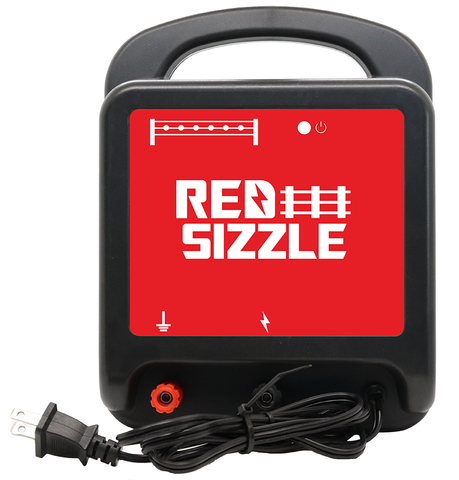 Red Sizzle | 62M 6.5J Plug In Fence Energizer
OUT OF STOCK - PLEASE EXPECT DELAYS
Our largest plug in powered fence energizer is effective for large pastures up to 62 miles of multi-wire fencing.
Powers up to 62 miles of fence
Controlled Animals: Buffalo, Cattle, Horse, Pig, Bull, Sheep, Goat, Moose, Deer, Wolf, Rabbits, Raccoon, Bear, Dog, Poultry
6.5J stored joules energy
3J maximum output
For best long-term performance, install 62M in a covered area if possible or place inside a ventilated weatherproof box. 
The 6 LED indicator lights provide the voltage performance of your fence.
Safe using low impedance shock technology.
At a glance know that your fence is operational with our power LED light.
Made of a durable construction. It will not rust, corrode, is shock resistant, and made with built in lightening protection.
Fast Installation with convenient rear mounting hole.
Built in high voltage circuit protection or voltage surges.
Designed to run on 110V Power source
TECHNICAL SPECIFICATIONS
Distance powers: 62 mi
Input Voltage: 12 V
Maximum stored energy: 6.5 J
Maximum output energy: 3 J
Weight: 4.5 lbs
Volume: 11" x 10" x 4.1"
---
We Also Recommend
---